Shanghai YuHuan Information System Co.Ltd
Joy Telecom was founded in Shanghai, 2005. It accumulated years of experience in mobile industry, including platform R&D, products, sales management, service network, with 3 China operators, business covering 32 provinces. Since 2014, Joy Telecom began its overseas expansion. South Korea branch, JOYTELE, was founded in July 2015, to operate local MVNO business. Core network in Hong Kong initiated in August 2016, and granted license from OFCA to become FULL MVNO in 2018. JoyTel holds also ICP, SP, ISP Licenses in China Mainland and could provide Internet Access, VPN, Mulitp-Party Comunication Services, Call Center services etc.
Shanghai Joy Telecom Founded
1st-tier Reseller Agent under China Unicom Shanghai
Global MVNO Business Initiated
JOYTEL South Korea Granted MVNO License
Joy Brand Overseas Travel SIM Business Starts
Shanghai Yuhuan Founded to Run Global MVNO Market
Joy Telecom HK Operated as FULL MVNO
Serving more than 6 million+ people, Launch eSIM service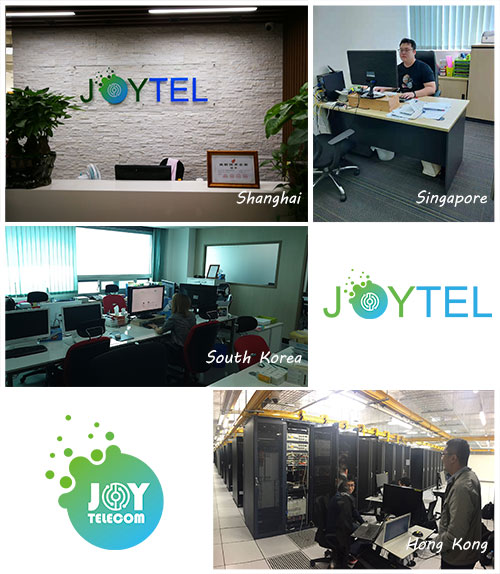 JOYTEL Global Operation Team
• JOYTEL(Shanghai)Management & Sales
• JOYTEL HK FULL MVNO Operation Team
• JOYTEL Korea Local Light MVNO team
• JOYTEL Taiwan Local Team and Sales
• JOYTEL Signapore Local Team and Sales
• JOYTEL Japan Local Team and Sales
• JOYTEL Europe Local Team and Sales (coming soon)
• JOYTEL Shenzhen Development team

Key Figures and Key Features
Global Distributors and Channels
Shanghai YuHuan Information System Co.Ltd
Thank you for your interest and please feel free to contact us.